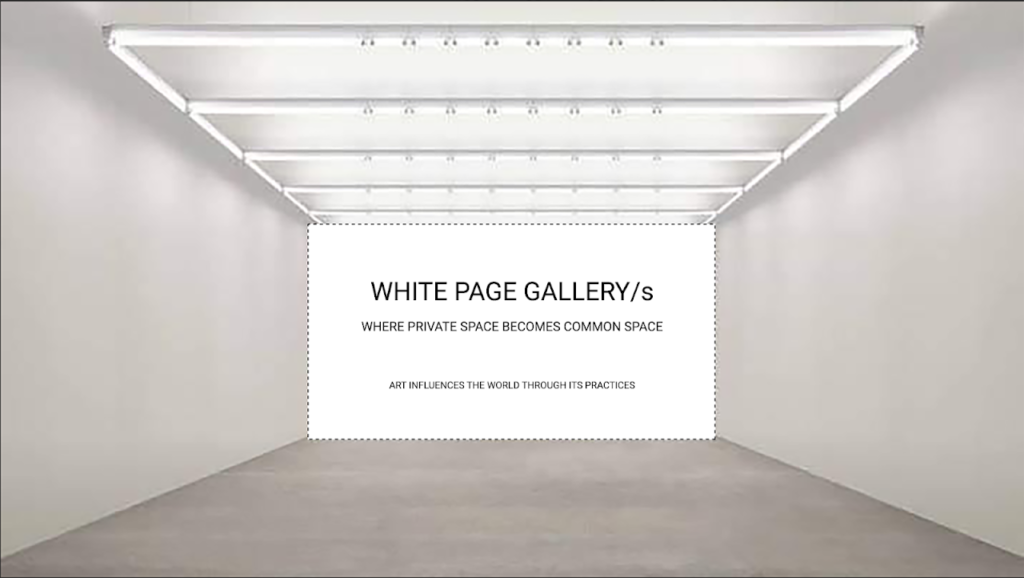 OPENING A WHITE PAGE GALLERY
IT IS VERY EASY. YOU ONLY HAVE TO CREATE AND SHARE A BLANK WEBPAGE ON YOUR WEBSITE THAT WILL WORK AS AN ONLINE GALLERY, YOU WILL BE THE HOST OFFERING YOUR ONLINE SPACE, COLLABORATION AND SUPPORT TO THE GUESTS WHO WILL WISH TO EXHIBIT THEIR PROJECT ON YOUR'S WPG. IT IS YOUR SPACE AND YOU WILL MAKE THE RULES, OF COURSE, SO ACCEPTING A PROPOSAL IT IS NOT MANDATORY. IT IS YOUR WEBSITE SO YOU WILL HAVE TO UPLOAD AND SET THE GUEST'S PROJECT AND ITS CONTENTS ON YOUR WHITE PAGE GALLERY. ONCE YOUR WHITE PAGE GALLERY IS ONLINE, GET IN TOUCH AND WE WILL LIST YOUR'S WPG ON THIS WEBSITE TOGETHER WITH THE OTHER WHITE PAGE GALLERIES ONLINE.
EXHIBITING ON A HOST'S WPG
GET IN TOUCH WITH THE HOST YOU WANT TO WORK WITH. EVERY WHITE PAGE GALLERY IS RUNNED BY THEIR HOSTS AND PROPOSALS MUST BE MADE DIRECTLY TO THEM. EVERY WHITE PAGE GALLERY IS INDEPENDENT.
TO KNOW MORE ABOUT THE WHITE PAGE GALLERY READ http://www.whitepagegallery.network/
FOR FURTHER ENQUIRES PLEASE CONTACT THE EMAIL BELOW
youarewelcome@whitepagegallery.network