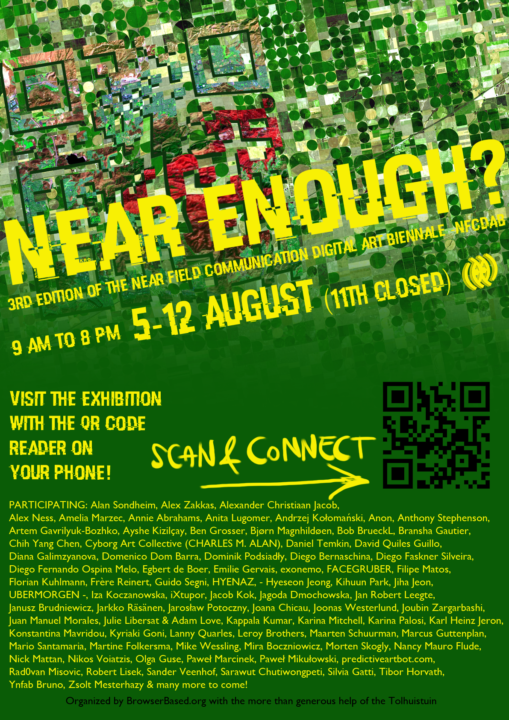 A shout out to all who participated in the 3rd NFCDAB in the Tolhuistuin, Amsterdam: Alan Sondheim, Alex Zakkas, Alexander Christiaan Jacob, Alex Ness, Amelia Marzec, Annie Abrahams, Anita Lugomer, Andrzej Kołomański, Anon, Anthony Stephenson, Artem Gavrilyuk-Bozhko, Ayshe Kizilçay, Ben Grosser, Bjørn Magnhildøen, Bob BrueckL, Bransha Gautier, Chih Yang Chen, Cyborg Art Collective (CHARLES M. ALAN), Daniel Temkin, David Quiles Guillo, Diana Galimzyanova, Domenico Dom Barra, Dominik Podsiadły, Diego Bernaschina, Diego Faskner Silveira, Diego Fernando Ospina Melo, Egbert de Boer, Emilie Gervais, exonemo, FACEGRUBER, Filipe Matos, Florian Kuhlmann, Frère Reinert, Guido Segni, HYENAZ, – Hyeseon Jeong, Kihuun Park, Jiha Jeon, UBERMORGEN -, Iza Koczanowska, iXtupor, Jacob Kok, Jagoda Dmochowska, Jan Robert Leegte, Janusz Brudniewicz, Jarkko Räsänen, Jarosław Potoczny, Joana Chicau, Joonas Westerlund, Joubin Zargarbashi, Juan Manuel Morales, Julie Libersat & Adam Love, Kappala Kumar, Karina Mitchell, Karina Palosi, Karl Heinz Jeron, Konstantina Mavridou, Kyriaki Goni, Lanny Quarles, Leroy Brothers, Maarten Schuurman, Marcus Guttenplan, Mario Santamaria, Martine Folkersma, Mike Wessling, Mira Boczniowicz, Morten Skogly, Nancy Mauro Flude, Nick Mattan, Nikos Voiatzis, Olga Guse, Paweł Marcinek, Paweł Mikułowski, predictiveartbot.com, Rad0van Misovic, Robert Lisek, Sander Veenhof, Sarawut Chutiwongpeti, Silvia Gatti, Tibor Horvath, Ynfab Bruno, Zsolt Mesterhazy & many more!
Great big thanks to the many staycationers who visited the show!
For last but not least many thanks to the Tolhuistuin for hosting Near Enough?!